What is NJB?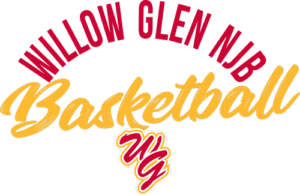 NJB is a competitive program, with emphasis placed on good sportsmanship, scholastic achievement, and skills development. We truly believe that everyone wins playing in NJB. All parents and players interested in a high quality basketball program should strongly consider National Junior Basketball. All NJB games are played on a regulation floor with a scoreboard and players wear a full uniform. Referees are certified and many officiate at the high school level. National Tournaments for All-Net and for Division All-Stars are held at the end of each season in Los Angeles.
What is WillowGlen NJB?
Willow Glen National Junior Basketball League (WGNJB) is located in the Willow Glen area of San Jose and operates youth basketball leagues for boys and girls from third grade through eighth grade. NJB is not a recreation district, government agency, or community program with a paid staff and its own gymnasiums.
Willow Glen NJB is a led by a group of volunteers dedicated to providing a fun, valuable, and positive basketball experience for the boys and girls of the Chapter. The Willow Glen chapter is affiliated with National Junior Basketball, which has over 35,000 players nation wide and is headquartered in Santa Ana, California (www.njbl.org), and with the Silicon Valley NJB Section which has over 4000 players in chapters ranging north to south from Redwood City to Hollister (www.siliconvalleynjb.com).
What is the Divisional program?
The Divisional program is separate for boys and girls and divided into three age groups: Division 1 (7th/8th grade), Division 2 (5th/6th grade) and Division 3 (3rd/4th grade).
All registered and confirmed players must be at the evaluation to be drafted onto balanced teams. Each player in the division program plays at least two full periods per game. Division play is five eight minute running clock periods. Each team plays regular season games plus playoffs from December through March.
What is the All-Net?
All Net is the competitive level of basketball in NJB. At each grade level, up to 10 players are selected via tryout to represent the Willow Glen chapter in All-Net Play. This is a very competitive level of basketball and games are played against other All Net teams in the Bay Area.
Playing time is subject to the coach – there is not equal playing time (please note that Divisional Play is equal playing time). The season has 12 games, with a tournament at the end.
How do I register for All-Net?
You must pre-register for tryouts to be eligible. The tryout date is TBD. We will not allow "Walk-Ins" to tryout for All-Net. The cost for All-Net is $100 more than divisional.
Prior to the tryout, you must pay the full All-Net registration fee, but if your son or daughter does not make the All Net team, you will be refunded the additional All Net fee and will be automatically registered for Divisional Play.
Please note that all players that are not selected for an All Net Team must attend the Divisional Evaluation.
What is Next Level Prep?
Competitive league play for High School age athletes who are not playing for their High School team. The Willow Glen Chapter will allow registration for Next Level Prep through TBD. The cost is $335 for the season. The Next Level Prep Divisions are Level 2 (9th – 10th Grades) and Level 1/Open (9th – 12th Grades).
Keep in mind CCS rules prohibit playing for a school and an outside league at the same time so teams will be formed after high schools have made their cuts.
The post season includes a sectional tournament with all teams, and all teams are eligible to attend and participate in the National Tournament.
2023-2024 Fees
| DIVISION | FEES |
| --- | --- |
| Rookies (K-2nd grade) | Coming Soon |
| Division 3 (3rd-4th grade) | Coming Soon |
| Division 2 (5th-6th grade) | Coming Soon |
| Division 1 (7th-8th grade) | Coming Soon |
| All Net (4th-8th grade) | Coming Soon |
| Next Level Prep | Coming Soon |
REFUNDS: A 10% non-refundable administrative fee is deducted if a refund is processed after September 30th. No refunds will be accepted after November 1st of each season. All refund requests must be submitted via email to wgnjbinfo@gmail.com.
Who should I contact with more questions?